News:
2021:
The Lazaretto Restoration is complete and occupied by the Township. Landscaping and development of the waterfront is underway. A 2021, August 7 event is being planned.
Events:
Training:
No aircraft are based at Essington at this time. Here are ideas for seaplane sightseeing and training:
Roatan Aviation (Amphib training in New Jersey)
Southern Maryland Seaplanes (PA12)
Brown's Seaplane Base (Cubs in Florida)
Improvements:
The township is refurbishing the Lazareeto House and the grounds. This is a proposed layout that includes plans for seaplane operations.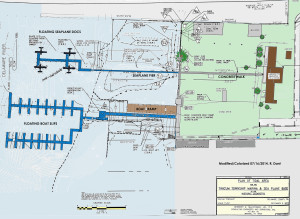 Pilot proposal:
A small pilot group has provided proposals for improvements to accommodate seaplane operations: