Events:
Training:
No training is taking place at the base at this time. Here are a few ideas for people seeking seaplane sightseeing or lessons:
Chesapeake Sport Pilot, in Maryland
Twitchell's Seaplane Base, in Maine
Brown's Seaplane Base, in Florida
Improvements:
The township is refurbishing the Lazareeto House and the grounds. This is a proposed layout that includes plans for seaplane operations.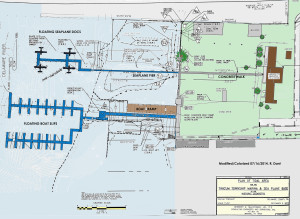 Pilot proposal:
A small pilot group has provided proposals for improvements to accommodate seaplane operations: