By Robert Dant
Edited by Mark Twomby
May 23, 2004
It was a calm morning at the Essington Seaplane Base near Philadelphia when I arrived for my second seaplane lesson. I met up with instructor extraordinaire Hank Grenfell, who gave me some pointers on the preflight. The 65-hp Cub on floats looked raring to go.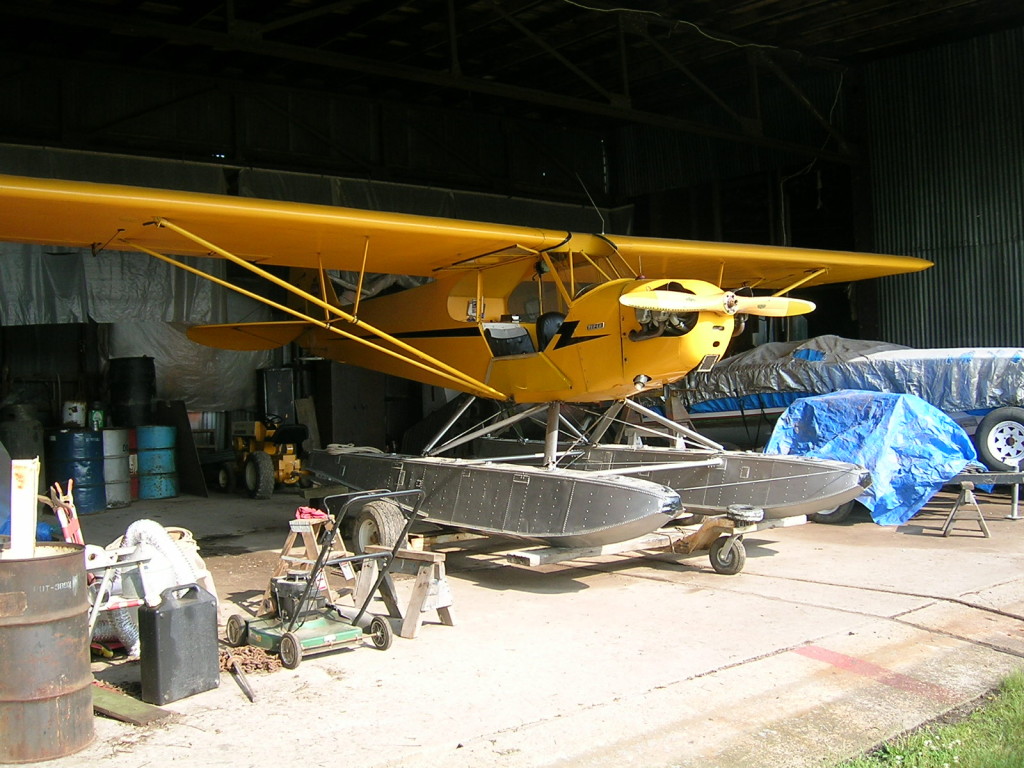 The tide on the Delaware River was down a lot more than the last time I was here, and it made launching from the ramp a little more interesting. On my first lesson we started from the dock; this time, we would launch directly from the seaplane dolly. Off we went.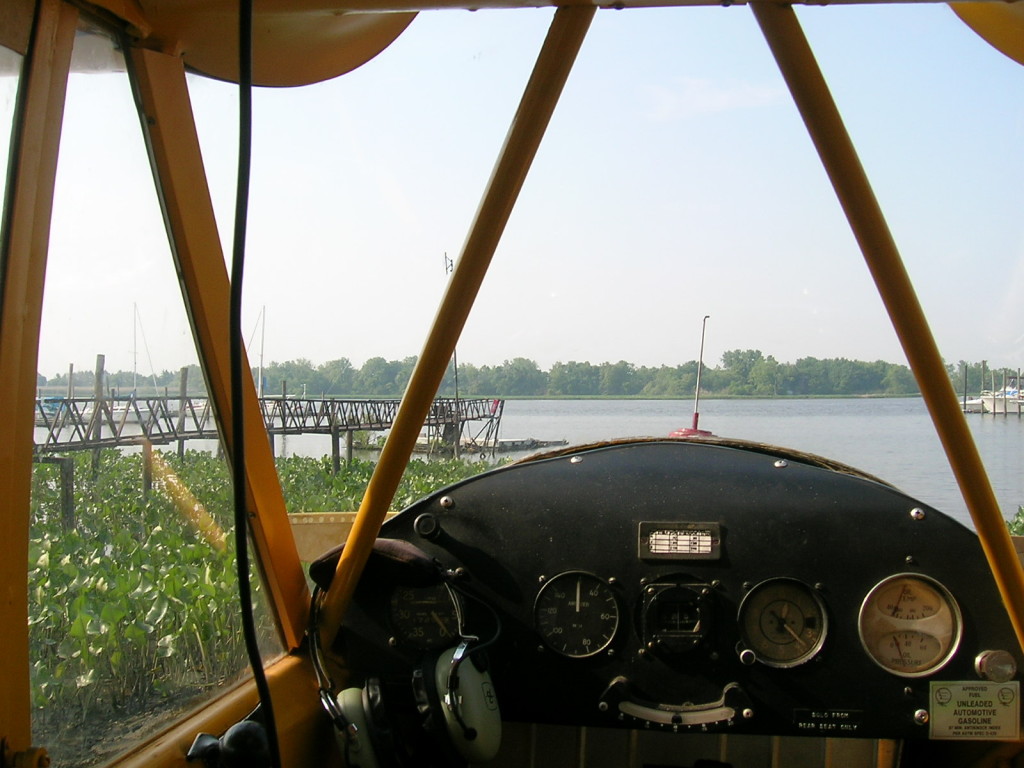 It had been a couple weeks since my first lesson. The spring weather was wreaking havoc on my training schedule, and now I was trying to recall the things Hank had told me during the initial lesson. The first order of business was to do some buoy work. (Most seaplane training is done on the water, not in the air.) This day the winds and tide were in opposite directions, which kept me thinking. Practicing approaches to the buoy simulates approaching a dock. I guess I passed that lesson, because we moved on to takeoffs and landings.
The first takeoff was uneventful; I was doing an acceptable job finding the right rotation point and establishing a good climb angle. We flew toward the practice area just northeast of the Commodore Barry Bridge with me thinking, "Boy, I love this stuff!"
I completed a couple good takeoffs and less-than-dangerous landings, while Hank kept reminding me to keep within gliding distance of the water. In this tight airspace underneath Philly International's departure path, our pattern altitude was just 300 feet AGL. Not much leeway.
My next takeoff was good. I was getting the hang of the one-float liftoff and making smooth transitions to the climb. All was right with the world, but as someone once suggested, when one is at the height of his glory, there is often no way to go but down.
At 150 feet above the water it happened: BAAAAAM!
That did not sound nice, and suddenly there was no sound at all. I had no problem recognizing a complete engine stoppage, but I spent the requisite four or five seconds trying to accept the situation before formulating a response. At 150 feet AGL with no power there is no time for hesitation, and Hank quickly took over. I should have been terrified but, frankly, I found it to be a very curious situation. And it got better. Hank informed me that the propeller had departed the aircraft. That would explain the engine stoppage. Hank glided us down to a smooth landing, and after 15 seconds it was all over. Did that just happen?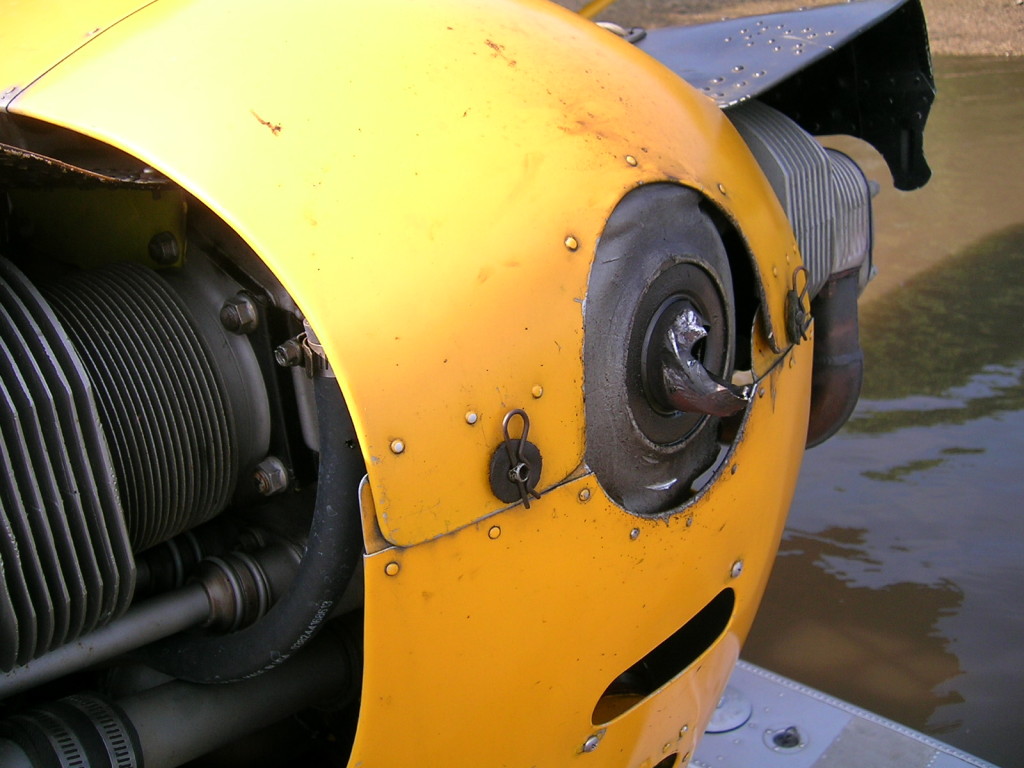 At this point we had no choice but to paddle to the New Jersey shore and check the damage. It became obvious that the front of the crankshaft had failed, not the prop. That made for a quick and clean departure from the aircraft, with no undue vibration. It was an interesting and, hopefully, rare event. A passer-by in a motorboat offered to help look for the wooden prop near Chester Island, but the prop was not to be found.
It was time to call for help. Hank brought his cell phone, but he did not have any local numbers programmed. Who to call? None other than Bob Mills, the former owner of the seaplane base and chief instructor, who had retired and moved to Florida. After hearing from Hank, Bob called the marina adjacent to the seaplane base.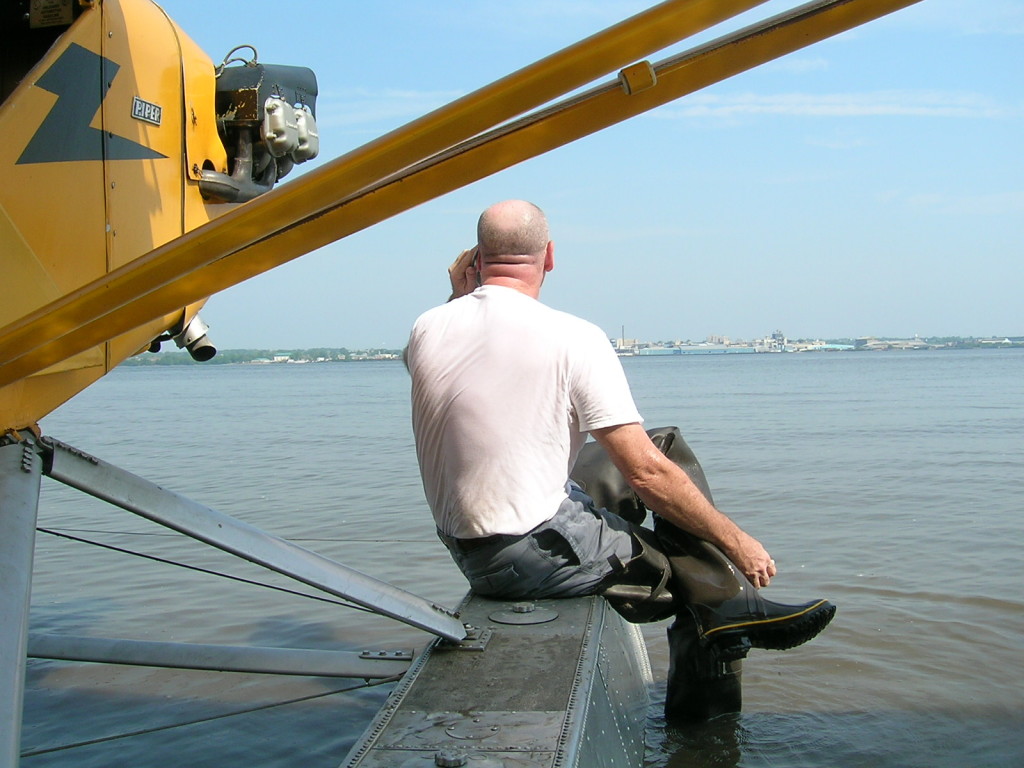 The guys at the Riverside Yacht Club soon came to the rescue and towed us in. We generated a lot of interest on the river as we passed by small boats, a police boat, and a tug. It had been just a 5-minute flight, but it was a 45-minute tow back to the base.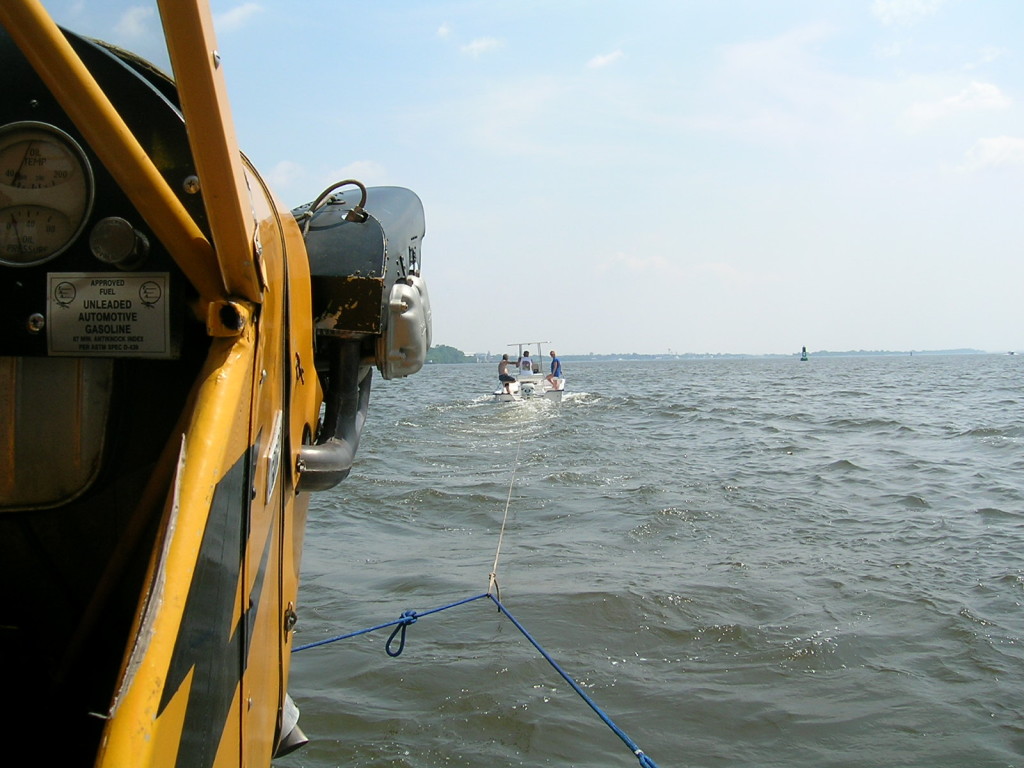 Finally, back at the dock, Hank put the Cub back in the hangar to await a better day.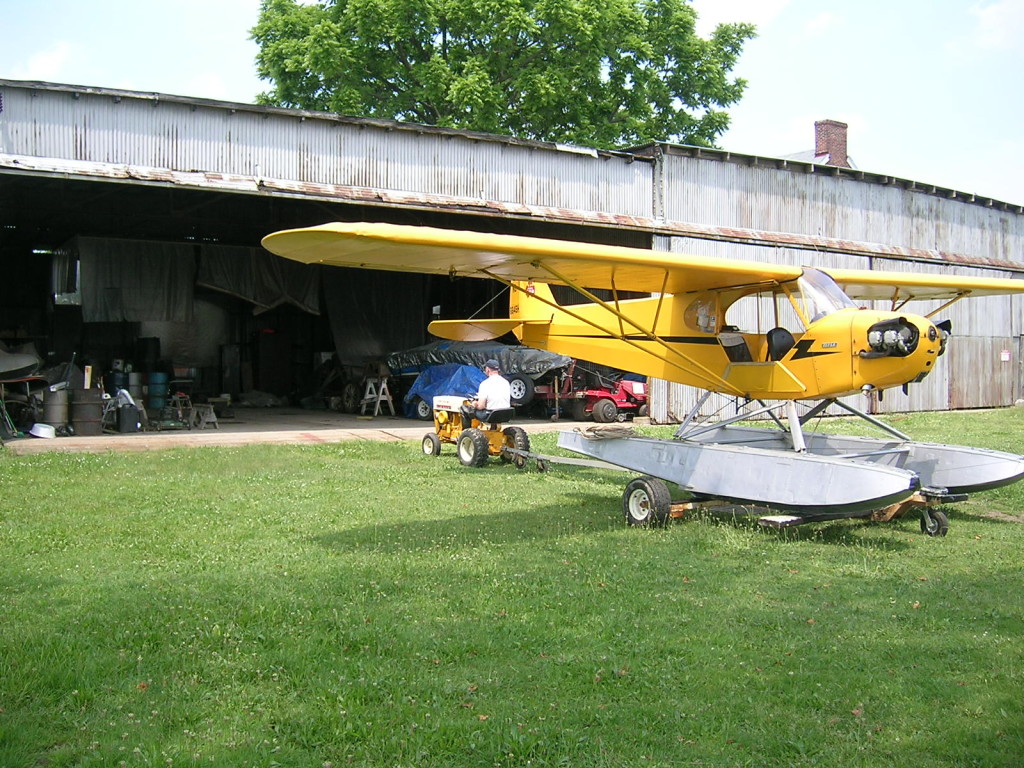 Lesson two was now complete, and Hank informed me that there would be no charge! But, I considered the lesson priceless. Sadly, it would be awhile until we could get back back in the air, but I was patient. I would return.
That was in May 2004, and later that summer I finally did get my seaplane rating in the same Cub. Since then I have rented seaplanes in Maine, Florida, Seattle, and Italy, including solo time from the places that allow it. My next dream is to have my own seaplane. I am always looking for "silent" partners (wink).
Rob Dant is a 2700-hour pilot with a Commercial certificate and Instrument, Lighter-than-Air, and SES ratings. He owns a Cessna 172 on wheels and a hot air balloon.
Published in Aero Club of Pennsylvania Newsletter: 2011
Published in Seaplane Pilots Association Mag: 2013