June Splash-in at Essington, PA
by Robert Dant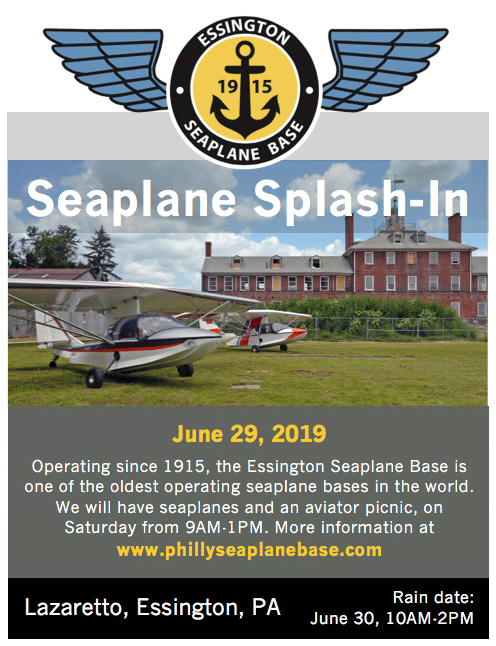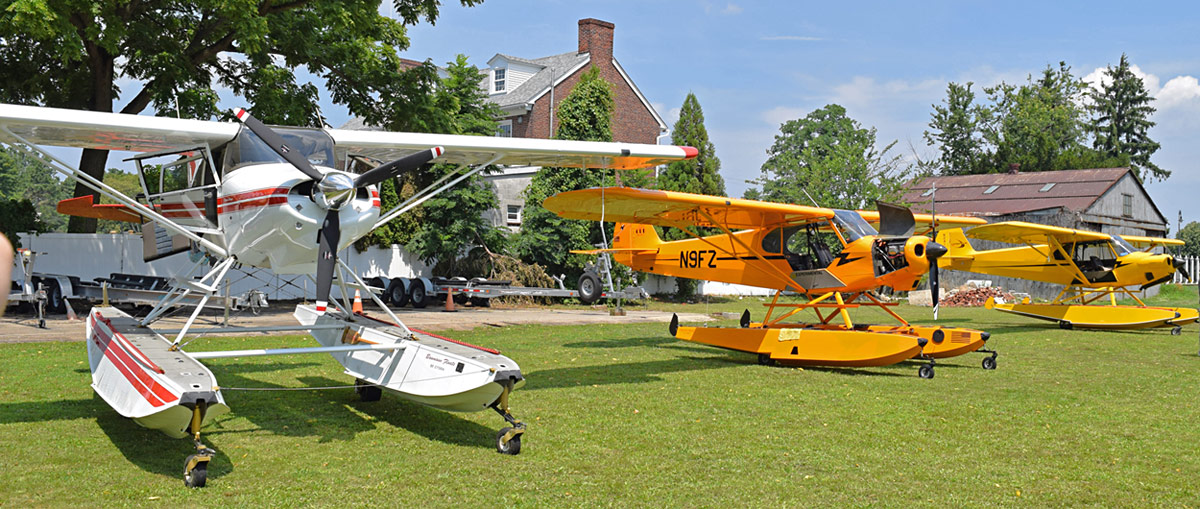 The first little heat wave of the summer hit Philadelphia just prior to June 29, the date for the annual seaplane splash-in at Essington, Pennsylvania. Hot conditions and afternoon storms were forecast, but the morning start helped keep the worst of the heat in check. Six seaplanes, from as far south as the Virginia – North Carolina border, participated in the event.
First to arrive was Virginia Field Director Steve Harris in his Amphib Maule. Steve was instrumental in building interest in this event by mid-Atlantic area seaplane pilots. Traveling with him was Bob and Penny Woodberry flying up from southern Virginia, a two and a half hour trek.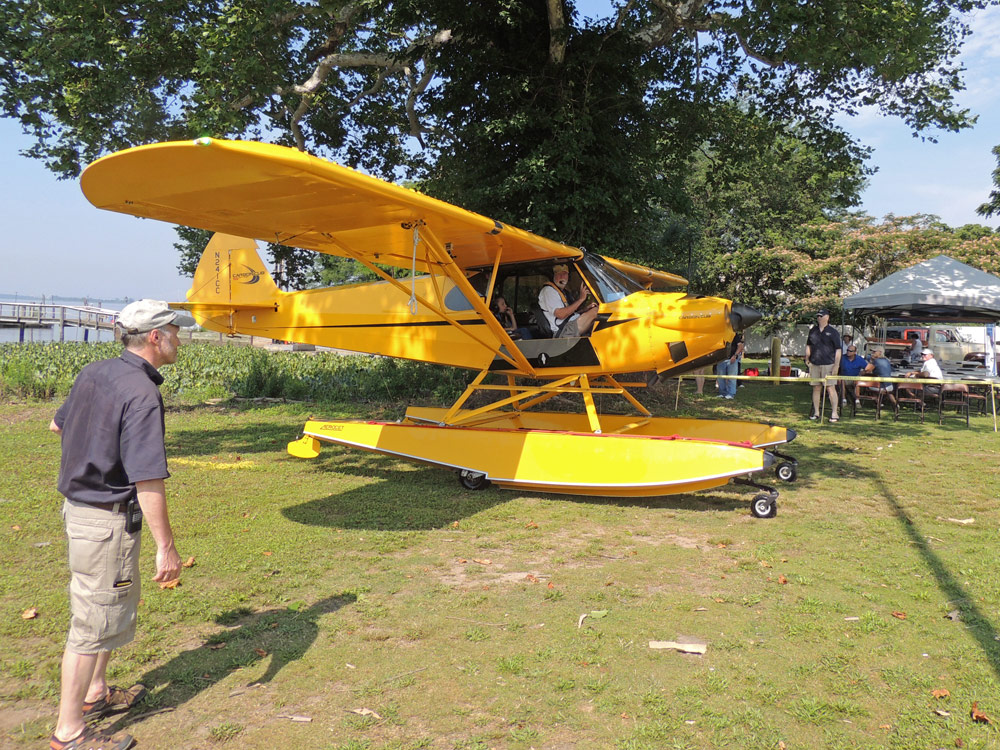 The gravel ramp at Philly has not seen an amphibian floatplane in many years. We need a bit more gravel at the mid-tide mark, but Steve did OK, despite the extra weight of passengers. Bill Fosdick followed Steve; arriving in his Legend Cub, also inbound from Virginia. Thirty minutes later, Dave Dixon arrived in his Carbon Cub, with his grandson as an eager passenger. Bert Pomillo arrived from Maryland in his homebuilt SeaRey and Richard Drumheller from nearby New Garden Flying Field in his Adventurer II. Michael Little made a late appearance in his SeaRey from nearby Pennridge Airport. It has been many decades since six seaplanes sat on the grounds of the historic seaplane base here.
Ramp operations here are only possible from mid to high tide due to the condition to the ramp that has not seen regular maintenance in many years. It is surprising how few summer mid-day Saturdays fall at high tide here.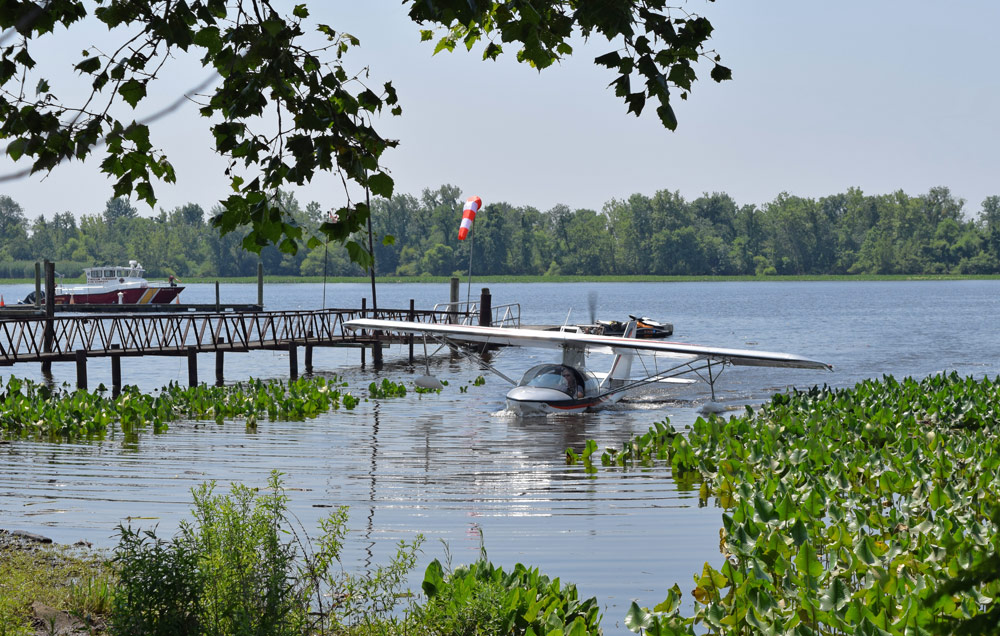 The crowd probably maxed out at about 100, including pilots, passengers, local aviation enthusiasts, neighbors and township officials. A small local caterer provided wonderful food for the event. Yours truly also surprised folks with ice cream kept on dry ice.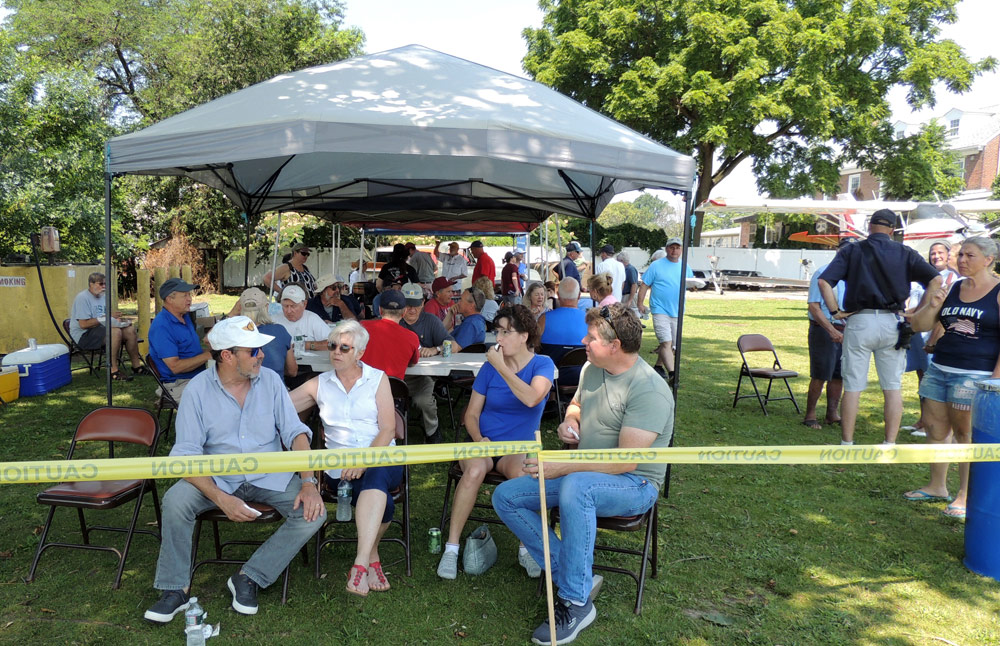 Tinicum township officially maintains the license for the seaplane base and they are critical to successful future operations here. A number of township commissioners were present at the event.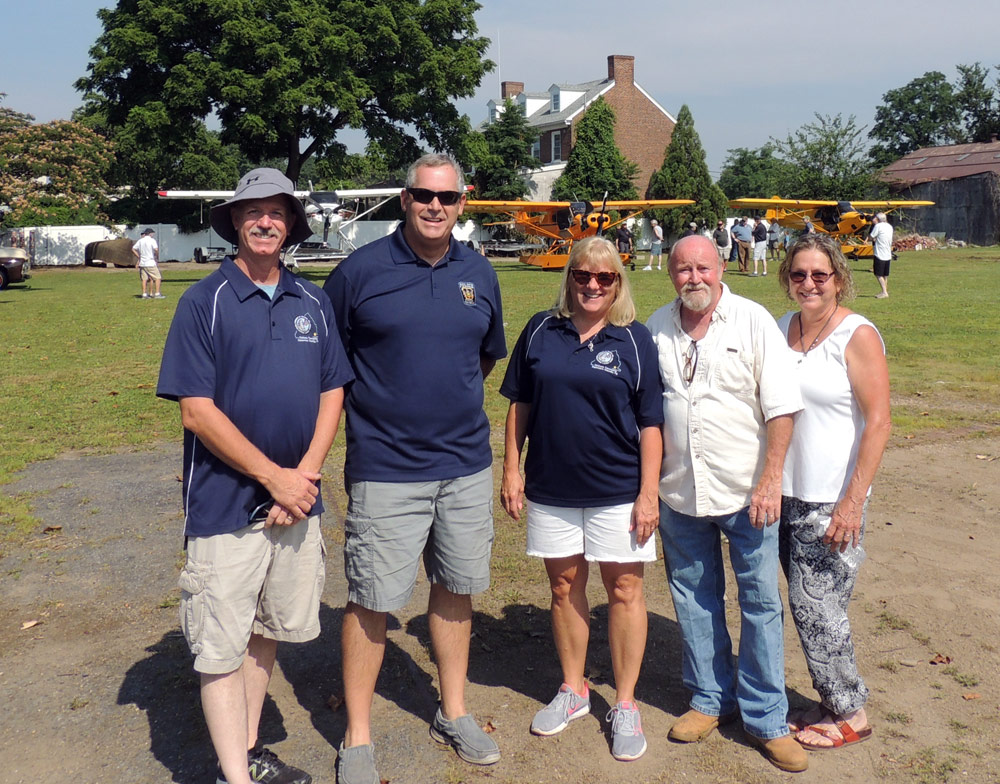 The township is undergoing revitalization including the refurbishment of the historic 1799 quarantine hospital into township offices, rejuvenation of the adjacent township park, a new sports field, and plans for a new marina and floating docs for seaplanes. The township folks were tremendously helpful in supplying tables, chairs, tents, and trash bins, and in cleaning and mowing of the grounds. Pat Barr, one of the township commissioners was even on hand at 7:30AM to help us set up.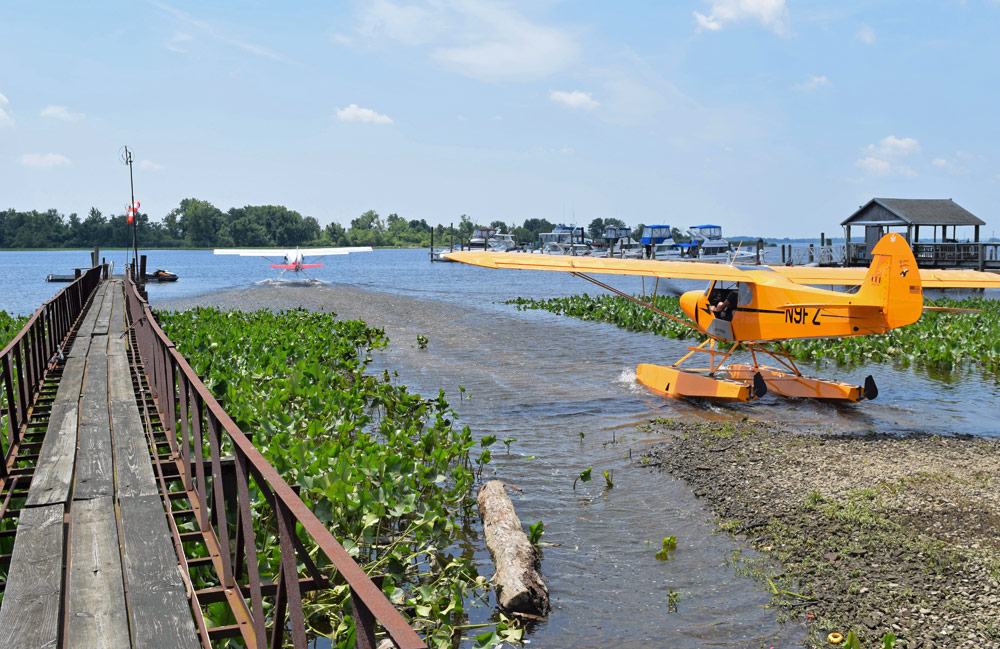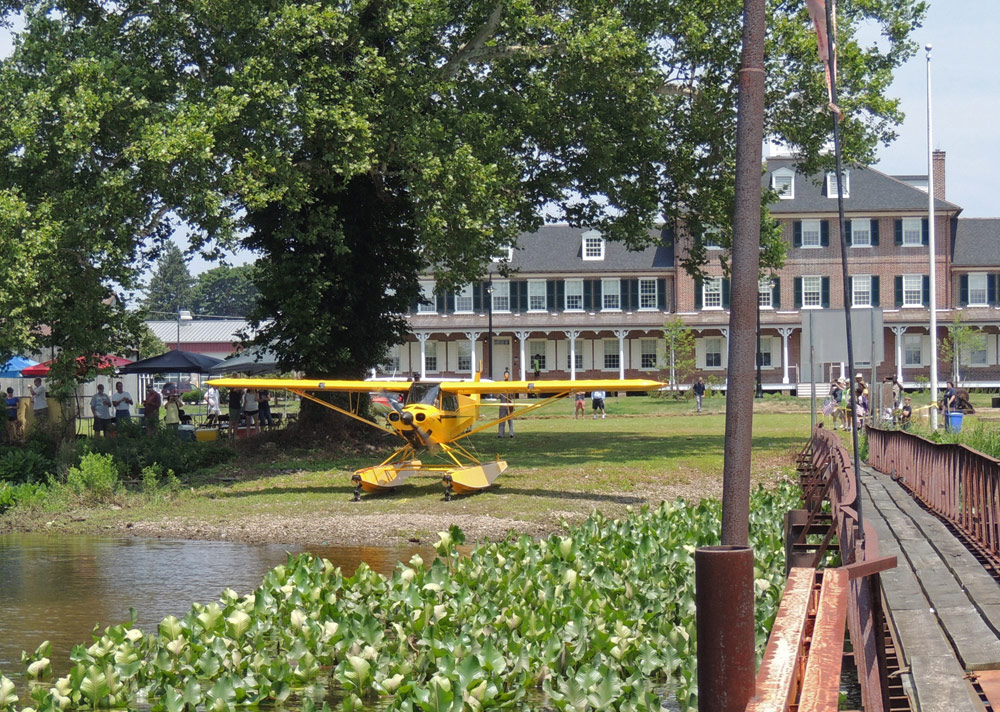 All-in-all, it was a great event to help celebrate the existence of this historic seaplane base that first started operations in 1915 as a flight school training pilots to fly Curtiss flying boats.
PHOTOS: Chris Templin, Sarah Wolfe
---
Invitation:
June 29, 2019, 9AM – 1PM. High tide: 11:00AM.
Rain Date, June 30, 10AM – 2PM. High tide: 11:50AM.
We are planning a Splash-In and cook out at the seaplane base on Saturday. Drop us a line if you are interested in this event. If you think you might fly in, we'd love to know. mailbox@phillyseaplanebase.com
Pilots: The floating doc is in good shape and can accommodate a couple aircraft. The gravel ramp will be smoothed and cleared and should be good during mid to high tide. Optimum ramp usage is high tide +/-2 hours. See more info here on our flight patterns: Base Info. If the winds are out of the east and Philly is using runway 9R, caution wake turbulence.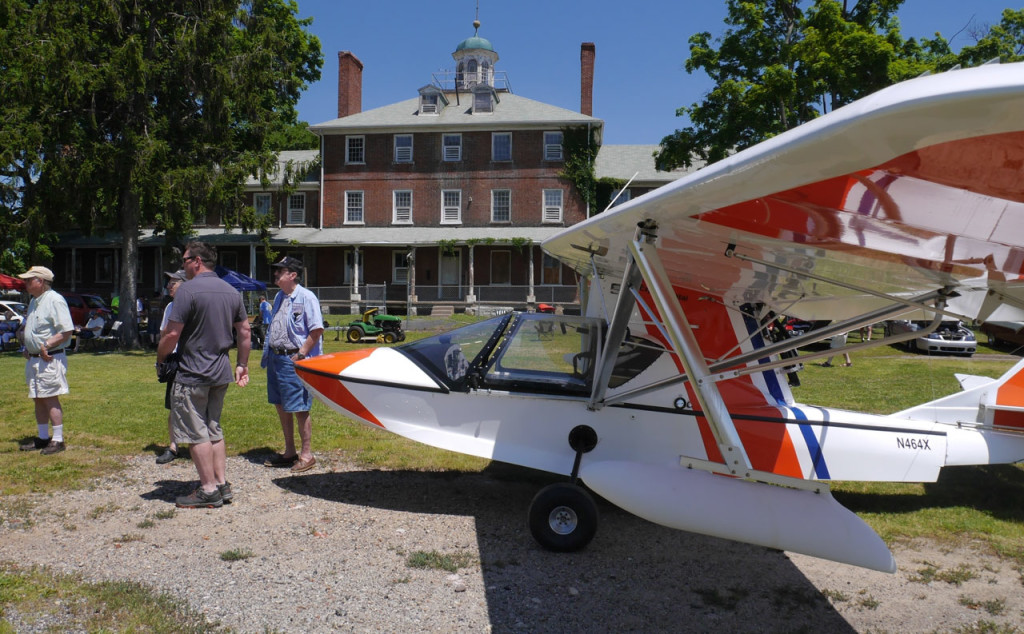 Searey at Lazaretto